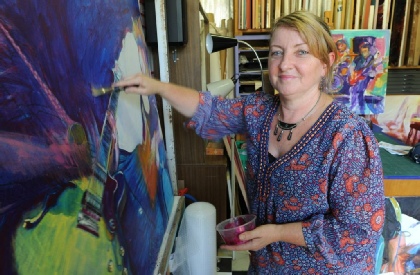 In her Drouin Studio Janine Good working on Shinin Thru.
Photographer Stewart Chambers.
Photo courtesy of Pakenham Gazette.
Article "Her art is all Good", People in profile, Pg 10 Wednesday, 30 January, 2013.
"Art and Painting have been my life's passion.
As a child I drew obsessively.
After secondary school I studied a Diploma of Graphic Design at RMIT but discontinued because it conflicted with my passion to pursue Fine Arts. I moved to the Dandenongs and set up a studio in Monbulk.
During 1986-88 I was fortunate to gain entry to attend art classes at Merv Moriarty's Healesville Studio (of Flying Art School fame), consisting of drawing and painting from the life model and intensive colour theory.
While working part-time doing office admin duties for a small rural Primary School, I returned to Box Hill TAFE for 2 years to study Printmaking, Sculpture and Ceramics to gain extra skills with some excellent tutors including Van Komin (sculpture),
Ian Gardiner (printmaking) & Kevin Boyd (ceramics). Also painting with Stephen Wickham.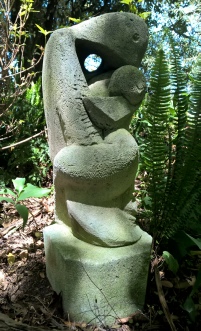 Janine Good, Embrace 2,
Carved Sandstone 1997,
80x35x30cm
Since 2001 I have lived in rural Drouin with my musician partner amongst a wild rambling garden surrounded by pasture. Apart from a stint as coordinator of the local Festival Art Show, I have been painting instructor at the Pakenham Living Learning Community Centre, since 2006 to the present, taking me away from my studio a day a week and enabling me to connect with community to share my knowledge and passion for Art.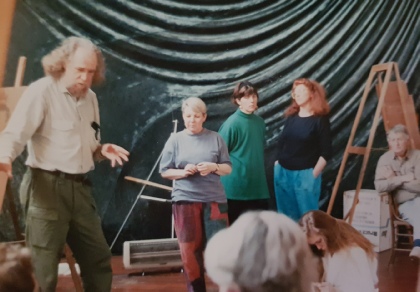 Merv Moriarty 1938-2021, one-of-a-kind brilliant educator
See ABC Documentary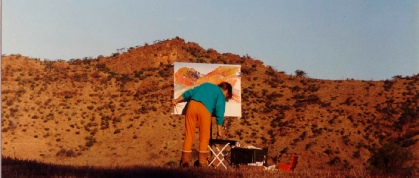 Painting at Arkaroola Flinders Ranges SA in 1989
A decade later in 1996 I again returned to formal study, now a mother of two small children, (initially to study Art History by Distance Education while living in Queensland) but on return to Victoria the following year on campus I was to complete my Bachelor of Visual Arts at Monash University Gippsland by 2001 with mentors Rodney Forbes (Australian Galleries) & Julie Adams.
Of particular interest to me is colour, it seems to be the impetus that inspires my creativity, I am intrigued by the colour in light and in darkness. But I'm also drawn towards strong compositional structure.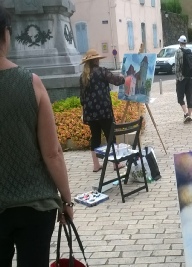 Janine painting in Southern France, Salies-de-Bearn, foothills of the Pyrenees, during a three-day painting event Le Peintures du Salies-de-Bearn, France 2015.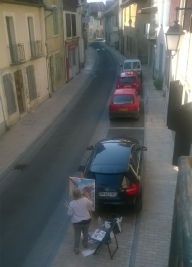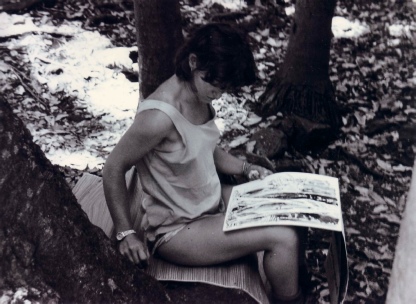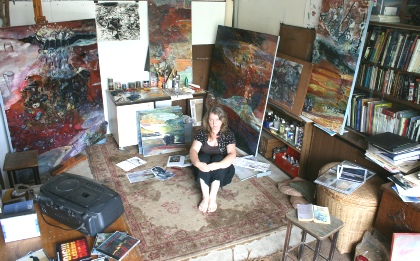 I feel proud to practice a cultural expression that's integral to human existence. I have an enduring love of Art History and my influences have been many and varied: from the Heidelberg painters to the Angry Penguins; the Impressionists to Frida Kahlo; Van Gogh to Edward Hopper; William Young to William Kentridge.
I love the ordinary themes and painterly, colourful works of Lucy Culliton, the textural surfaces and powerfully intense statements of Mandy Martin but also the looseness and surprise of Elisabeth Cummings, to name three contemporary female Australian artists because women have largely been overlooked through art history.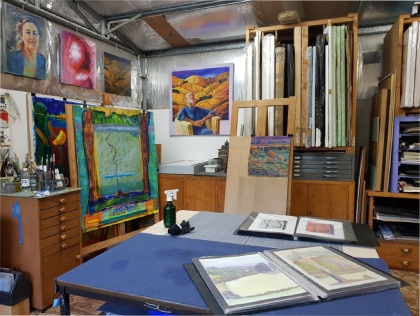 Drouin Studio, Open Studios 2022
My most recent challenging but rewarding project has been my role as Creative Recovery Artist Facilitator (2020-2022) for communities in Cardinia Shire impacted by 2019 Bunyip State Forest Complex bush fires.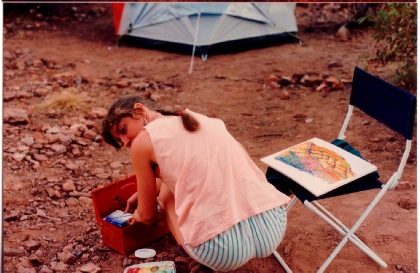 Memorable highlights of my career in art so far have been:
painting in a three-day Plein Air Regional Art painting event in Salies-de-Bearn, Southern France in 2015;
my 2012 Collaborative Art-Music performance

eMotion

with energetic garage thrash band

ShyRobyn

;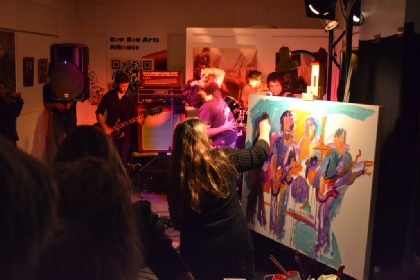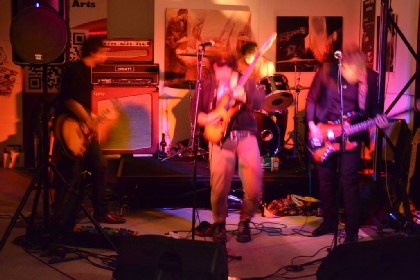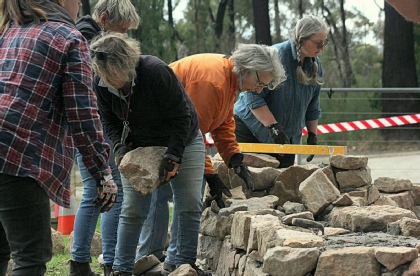 Creative Recovery Project
Working with community, Drystone Workshop at Tonimbuk 18-04-2021 Photo: Sue Jarvis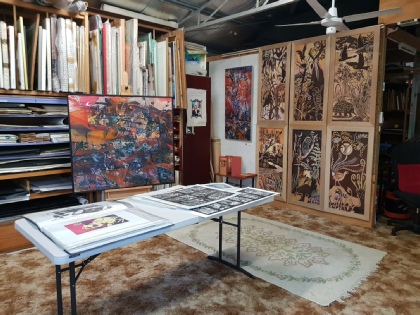 My Drouin Studio during West Gippsland Open Studios 2022
I officially became a Member of Melbourne Society of Women Painters and Sculptors (MSWPS) in early 2020. Founded in 1902, it is one of the longest running art societies in Australia and I hope to follow in the footsteps of some of the most celebrated women artists such as Lina Bryans, Clarice Beckett, Ethel Carrick-Fox, Sybil Craig, Ethel Spowers and Jessie Traill to mention just a handful of previous members.
I have strong associations with art organisations in the Latrobe Valley due to attending university there. I am currently a member of
ARC Yinnar (The Art Resource Collective) and have Life Membership with
_Janine Good 2022