There are several different versions printed:
~ 6 individual linocut panels to correspond with seasonal change informed by the Eastern Kulin Nation Seasonal Calendar, information sourced from Museums Victoria, but modified to suit the landscape of Cannibal Creek and Mount Cannibal, also the stories about wildlife told to us by the bushfire impacted communities.
~ Tadpole Season
~ Grass Flowering Season
~ Dry Grass Season
~ Eel Season
~ Wombat Season
~ Orchid Season
~ Mount Cannibal Seasons of Change 1 triptych -Tadpole, Flowering & Dry
~ Mount Cannibal Seasons of Change 2 triptych Eel, Wombat & Orchid.
~ Mount Cannibal Seasons of Change - all 6 panels stacked 2x3
- Mount Cannibal Seasons of Change - all 6 in continuous line
Some have been printed on Japanese paper and some on Magnani paper.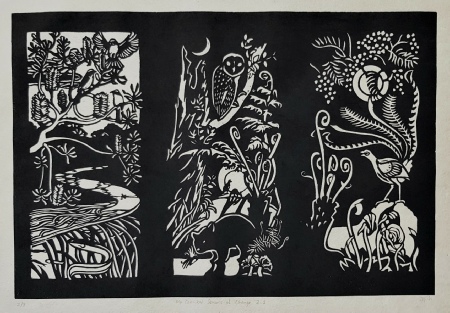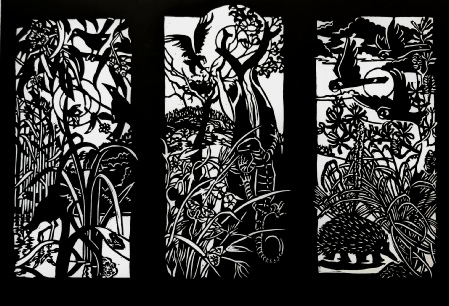 2021 Seasons of Change Relief Prints
After completing the work for the Creative Recovery Project for Cardinia Shire Council I worked on a series of 6 Linocut prints to correspond with the Corten Steel Panels I had designed. These are my drawings for the designs.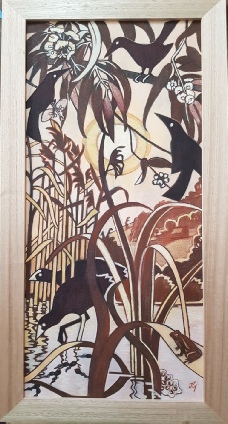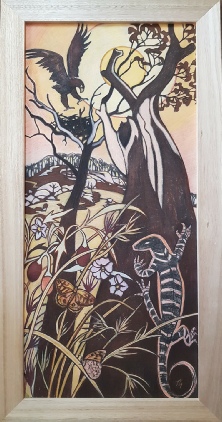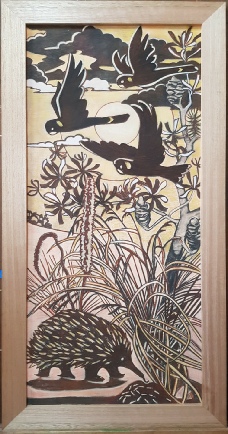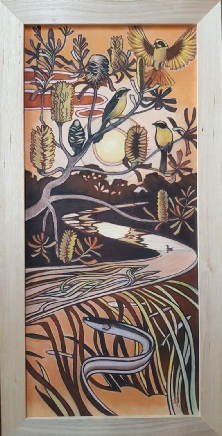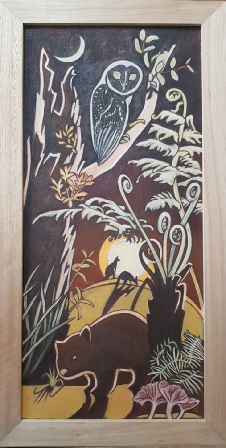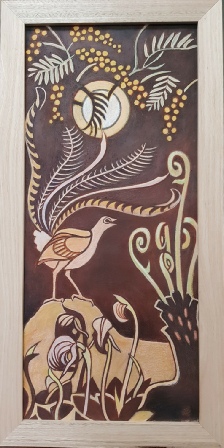 6 panels Pastel & Charcoal on board
120x60cm each, including Tasmanian Oak Frames.
Designs created for Corten Steel Laser-cut panels to be installed at Cannibal Creek Reserve in 2022.
State Government Bushfire Recovery Project for the communitiesof Cardinia Shire impacted by the Bunyip State Forest Complex fires in March 2019.
Partly this was a process to check that the designs would work ok - the lino-cutting process being similar in concept to holes cut into steel.
Some modifications were made along the way, such as reversing the lyrebird image so that it was more successful grouped with others.
The benefits of going through this process would be confidence in the Panel Designs,I could check for design balance, if it worked on a small scale of 30x15cm it would be ok at 120x60cm.
The black printed versions of these images have been useful unique gifts for community members who helped considerably during the project.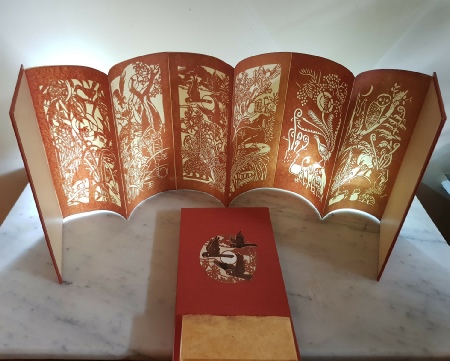 After printing the 6 linocuts in black water-based ink I was curious about how they would potentially look in a rusty version so I printed all 6 onto a sheet of aged parchment I'd been saving for many years, with a mixture of ruby red and gold ink mixed in the rolling process it was a good match. I then made a cover using some book-binding material I had (coincidentally in an earth-red colour) over mount board and assembled a folding concertina booklet.
To keep it safe I also constructed a box out of the same book binding material and lined it with ochre hand-made rice paper. The finishing touch was the circular print of the black cockatoos on some remnant parchment for a cover image on booklet and box. A lot of work, but worth it for the results and peace of mind!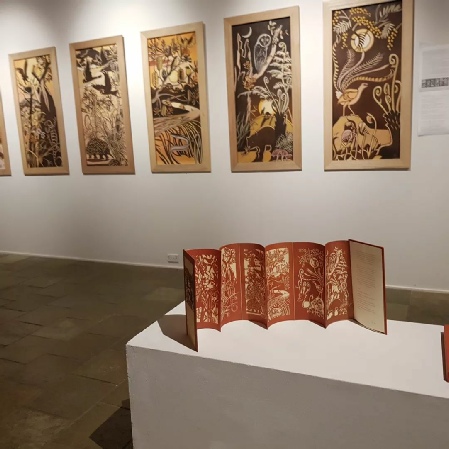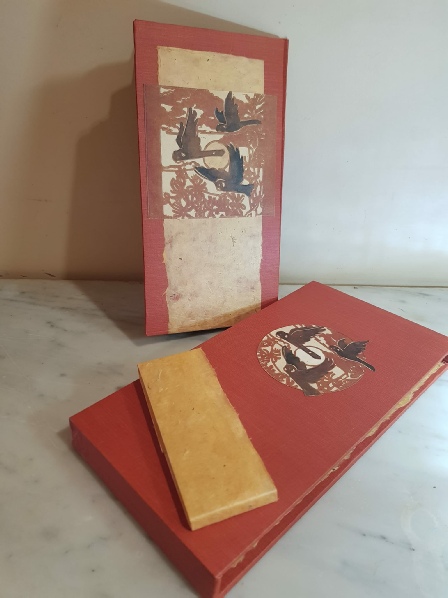 Booklet displayed with Panel Designs at ARC Yinnar Women's Exhibition 2022.