2016 OTHER PROJECTS
Pauline Mackinnon (Bonesy) is a local identity to Cardinia. She resides in Maryknoll and her family, the Cunninghams, are farming pioneers of Nar Nar Goon. The Mackinnon family have been our family friends for more than a decade - we share the same passion for music, although we first met through kids and hockey. Pauline, a quiet achiever, is warm and extremely generous in heart and spirit, a person who contributes to community in many ways, on many levels.
In 2015 Pauline published her first book: a collection of short stories, poetry and photographs. Titled "Treasures From The Tide", it is a great read about ordinary people. I went to the launch and was so proud of her achievement knowing, personally, the many hours and struggles it takes to bring to fruition anything originating from the heart, particularly in the Arts.
The portrait I have painted shows Pauline at the launch of her beautiful book, looking content with her achievement. The background I based on one of her photos, the image Pauline chose for her book cover, one she feels captures something of her soul. Beside her, the pen and empty champagne glass symbolise the celebration. Sheet music speaks of her passion for music and a sprig of wattle is both an emblem from one of her stories and signifies Pauline's great love for the Australian land.
For a copy of Treasures From the Tide contact: bonesymackinnon.wix.com/treasures
'Sunday Best' 50s Nostalgia 2016
Screenprint on Magnani (13 colours) 51x41cm
Out of the Tide, Pauline Mackinnon 2016
Acrylic on canvas 60x60cm SOLD
'Cheers Luv' 50s Nostalgia 2016
Screenprint on Magnani (13 colours) 51x41cm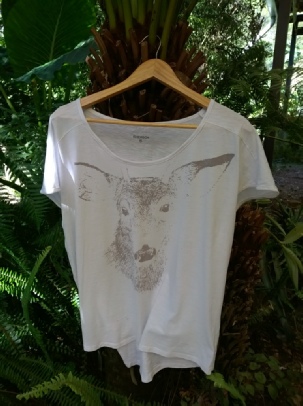 During the summer of 2015/16 I spent some time in the studio exploring the potential of Screenprinting. I had participated in a Screenprinting workshop at Art Resource Centre (ARC) Yinnar late in 2013 under the guidance of Sharon Anderson and wanted to explore further.
The two images above were based on slides my partner's mother had taken in 1952 at a Church Homecoming in Brighton. I found these images after Roma had passed away and found them intriguing not only for the fashion of that era but because the colour process was different and produced a different colour resonance that I wanted to attempt to replicate.
The tshirt image was a drawing done by my talented daughter Kate Price and I wanted to make it a gift of it for her.
Quick Landscape Oil on board 20x30cm
Student Demo sketch in oils
New Growth 2 Acrylic on canvas diptych 92x182cm
It never hurts to revisit early work to freshen it up.
Reworking of the right hand panel of New Growth 1998 (Above),
I felt the paint was too busy in the early version above and achieved a more atmospheric effect below 2016.